Hon. Prime Minister Stephen Harper - photo from Globe and Mail
It's no secret that we Canadians love our beer. You wouldn't even catch one of our politicians denying a celebratory brew.
Beloved Hon. Jack Layton - photo from Globe and Mail
So. What's a Canadian representative of the Bread Baking Babes to do when presented with the challenge of presenting a challenge to the world? She finds one awesome beer bread for people to bake!
Thanks to Chuck at CookingBread.com and The Knead for Bread - we found the perfect beer bread to delight your friends and families and you guys stepped up to the challenge - here are the awesome Bread Baking Buddies!
Heather from girlichef
threw open her windows to let the glorious scents of dark beer, fennel seeds, sharp, tangy cheese and her favourite sausage waft through the air and temp her neighbours.
Dewi from ~ e l r a ~
added sun-dried tomatoes and bunching onions from her garden to the bread and served it to her family. She says her resulting loaf was one of the most delicious she has tasted!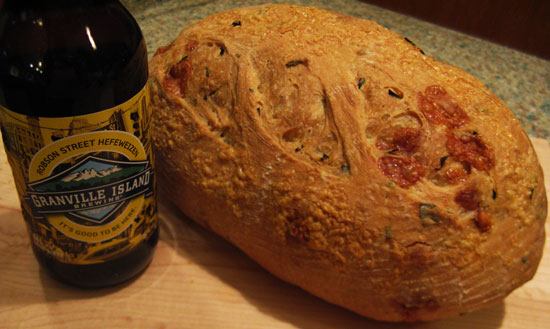 Breadsong from The Fresh Loaf
managed to get her hands on some Granville Island beer and added asiago and chives to her loaf for a delicious treat!
Judy of Judy's Gross Eats
also managed to find some good Canadian beer for her bread and used a spinach, fontina, and roasted garlic chicken sausage and Quattro Formaggiio (four cheese blend). Delicious!
Tara of The Guild of Knitting Kninjas
spiced hers up with chorizo and red pepper flakes for a treat with heat!
Rita of soepkipje
was surprised by how much she loved having sausage cooked into her bread. This is a bread she would not have thought to bake on her own, and she is glad she stepped up to the challenge!
Mági from szeretetrehangoltan
used fresh bear onion, vegetarian sausage, Hungarian cheese and German wheat beer for a veggie spin on this delicious bread!
Sandie from Crumbs of Lov
e had a rough week this week but still managed to turn out these gorgeous loaves featuring
"Big Rock traditional ale, Bavarian smokies that are house made and smoked at a german butcher in the neighborhood, extra sharp Canadian cheddar cheese, and fresh chives, right out of my Canadian garden.."
Looks delicious!
Thanks to all you buddies for baking along with us and for loving beer as much as I do.
You totally deserve to be honourable Bread Baking Buddies. Great job!
Okay, take it easy, eh?