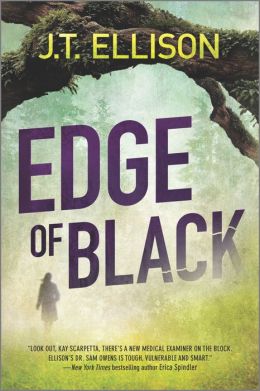 Edge of Black
by J.T. Ellison
Paperback, 368 pages
The path of the righteous man is beset on all sides.
I fell in love with J.T. Ellison's novels with her
Lt. Taylor Jackson series
. Ellison does a hard-hitting procedural crime drama and is not afraid to kill her darlings.
Edge of Black
is the second in the Samantha Owens, M.D. series, a spin-off from the Jackson books.
Owens is trying to piece her life back together after losing her husband and children to the floods. But after barely settling in to her new job, new city and new life - she finds herself in the middle of a seeming terrorist attack. A pathogen of some sort is let loose in the Washington Metro and, although many are afflicted with breathing and lung issues, only three die.
This in itself is a puzzle, and the more Samantha, her new boyfriend and ex-army ranger Xander, and detective Fletcher dig, the more puzzling it gets.
They find themselves racing against the clock to solve the mystery before more people die, including them.
A great winter read for curling up under a blanket - you won't be able to put it down.
1st book in this series
J.T. Ellison
is the bestselling author of eight critically acclaimed novels, multiple short stories and has been published in over twenty countries. Her novel THE COLD ROOM won the ITW Thriller Award for Best Paperback Original of 2010 and WHERE ALL THE DEAD LIE was a RITA® Nominee for Best Romantic Suspense of 2012. She lives in Nashville with her husband and the ghost of a poorly trained cat, and is hard at work on her next novel. Visit
JTEllison.com
for more insight into her wicked imagination, or follow her on Twitter @Thrillerchick.