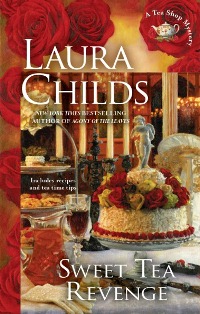 Sweet Tea Revenge




A Tea Shop Mystery


by Laura Childs

Hardcover, 336 pages
Sweet Tea Revenge
is the 14th book in Laura Childs' best-selling Tea Shop Mystery series. This cozy series is based in the polite society of Charleston, a slow and easy drawl of a community with a rich history.
Theodosia Browning owns the Indigo Tea Shop where she dispenses just the right brew to suit each customer, along with the perfect nibbles to complement the tea and the occasion. An idyllic refuge from her past busy business life, the tea shop is her pride and joy.
But Theo has a Nancy Drew-like ability to find herself amidst mystery and develop her own hunches along the way.
In
Sweet Tea Revenge
, Theodosia is dressed to act as bridesmaid for her good friend Delaine Dish. But before the nuptials are completed, Delaine's intended is found dead. Theo must now comfort her distraught friend while trying to figure out who all had motive, and opportunity, to kill the groom.
This is a fun series of easy reading mysteries with a delicious tea shop theme. There are even tea tips, recipes and links to all things tea.
Pour yourself a cuppa and curl up on your favourite rocker on the porch and enjoy some
Sweet Tea Revenge
!
Laura Childs is the New York Times bestselling author of the Tea Shop Mysteries, the Cackleberry Club Mysteries, and the Scrapbooking Mysteries. She is a consummate tea drinker, scrapbooker, and dog lover, and travels frequently to China and Japan with Dr. Bob, her professor husband. In her past life she was a Clio Award–winning advertising writer and CEO of her own marketing firm.