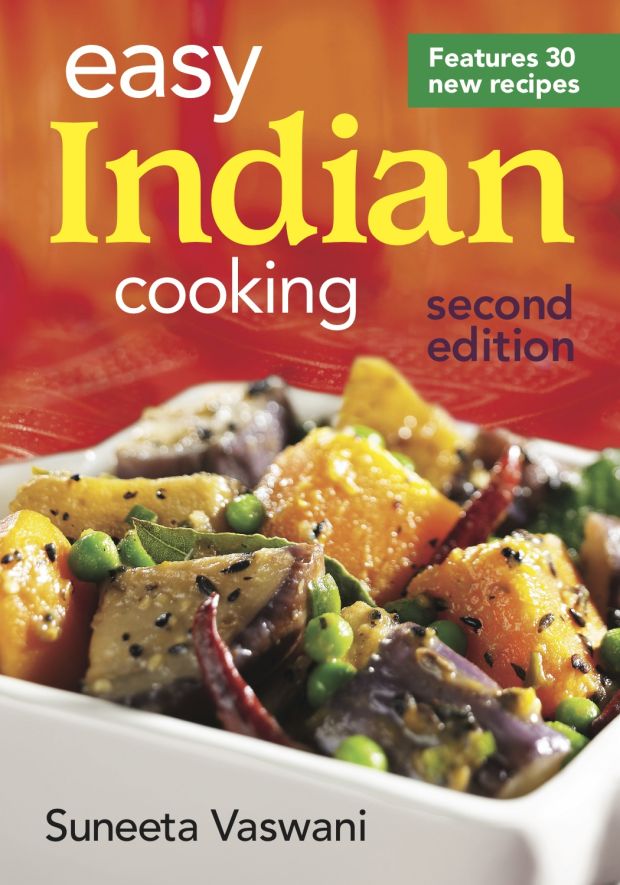 Easy Indian Cooking
Second Edition
by Suneeta Vaswani
Paperback, 264 pages
Indian cooking is an exciting cuisine,
and now it's easier to make than ever!
It can be intimidating, taking on a new cuisine. So many new flavours and new ingredients... but you don't have to rely on restaurants for real Indian flavour - Suneeta Vaswani has put together a simple instructional cookbook that will have you serving up authentic Indian dishes at home in a snap.
She gently teaches about common Indian spices and techniques and each recipe comes with tips to help you get the best flavour possible from your dish.
From snacks and street foods to entire dinners, you'll have all the tools you need to wow your friends and family with this new cuisine.
Spices, Spice Blends and Herbs
Easy Indian Cooking contains 150 recipes. Try one of these sample ones at home, and see how easy it can be to cook Indian food!
Yellow Lentil Soup with Vegetables
(Toor Dal) page 72
Here's a soul-satisfying soup packed with vitamins and the goodness of vegetables. Plus the dal makes it high in protein and fiber as well.
1 cup yellow lentils (toor dal) 250 mL
1 tsp turmeric 5 mL
1 cup chopped tomato 250 mL
1 cup cubed potato 250 mL
1 cup sliced carrot, 1⁄4-inch (0.5 cm) thick slices 250 mL
8 green beans, cut into 1-inch (2.5 cm) pieces 8
1⁄4 tsp cayenne pepper 1 mL
1 tsp salt or to taste 5 mL
2 tbsp oil 30 mL
1 tsp cumin seeds 5 mL
1 tbsp chopped garlic 15 mL
1⁄2 cup chopped onion 125 mL
11⁄2 cups steamed rice 375 mL
1⁄3 cup cilantro, chopped 75 mL
Lemon wedges
1. Clean and pick through lentils for any small stones and grit. Rinse several times in cold water until water is fairly clear.
2. Drain and transfer lentils to a large saucepan. Add
3 cups (750 mL) water and soak for 10 minutes. Bring to a boil, uncovered, over medium heat, skimming froth off surface. Cook, partially covered, until dal is soft and mushy, about 30 minutes. Purée in blender or using immersion blender, or whisk vigorously to batter-like consistency.
Serves 8
Coconut Chutney–Coated Fish Parcels
page 147
A classic dish of the Parsis of Mumbai (Bombay), this is a showstopping entrée.
I like to serve it with a spicy dal and steamed rice.
TIPS: Coconut chutney can be made 2 days ahead and refrigerated, tightly covered. Chutney can also be frozen for up to 3 months.
If banana leaves are unavailable, use foil to wrap fish. Leave foil slightly loose to allow steam to circulate.
• Steamer
8 banana leaf sections, each about 12 inches (30 cm) long (see Tips) 8
Vegetable spray
3 cups grated fresh or frozen coconut (thawed if frozen) 750 mL
12 cloves garlic 12
4 green chiles (2 inches/5 cm long) 4
2 tsp cumin seeds 10 mL
1 tsp granulated sugar 5 mL
1 tsp salt or to taste 5 mL
Juice of 1 lime or lemon
4 cups cilantro leaves, including soft stems 1 L
8 halibut steaks or any similar fish (1 inch/2.5 cm thick) 8
1⁄4 cup white vinegar 60 mL
1. Rinse and wipe banana leaves and trim any dry ends. Lay one leaf on work surface, rib side up. Using a sharp knife held almost horizontally (knife should be almost parallel to work surface), carefully slice away part of thick rib, if necessary. Spray dull side with vegetable spray. Repeat with remaining leaves.
2. In a food processor, process coconut, garlic, chile, cumin seeds, sugar and salt until coarse. Add lime juice, then cilantro, in batches, processing until fine and scraping sides of bowl frequently. Transfer to a bowl.
3. Carefully coat each piece of fish on both sides with 1⁄4-inch (0.5 cm) thick paste. Place one piece of coated fish 3 inches (7.5 cm) from end of oiled side of banana leaf. Cover with 3-inch (7.5 cm) flap. Fold in sides and continue to fold into a "parcel." Secure with kitchen twine. Repeat with remaining fish and leaves.
4. Fill steamer with 11⁄2 inches (4 cm) water. Add vinegar. Place wrapped fish in steamer and cook for about 30 minutes. To serve, place parcels on platter and allow each person to unwrap package.
Serves 8
Hena's Finger Potatoes
page 185
Delicious potatoes, which make a marvelous marriage with any kind of barbecued meat or fried chicken, are just as wonderful by themselves. An old friend who is renowned for her cuisine gave
me this recipe when visiting from India.
TIPS: I like to serve these to accompany beer.
To toast sesame seeds: Spread in a dry skillet and toast on medium heat until starting to color, 3 to 4 minutes. Shake pan periodically to toast evenly. Seeds will turn slightly darker as they cool.
4 tsp oil, divided 20 mL
1⁄4 cup raw cashews, broken into large pieces 60 mL
1⁄4 cup raisins 60 mL
2 lbs all-purpose potatoes, peeled and cut into 1⁄2-inch (1 cm) thick fries 1 kg
2 tsp hot pepper flakes or to taste 10 mL
1 tsp cumin powder 5 mL
2 tsp salt or to taste 10 mL
1 tsp mango powder (amchur) (optional) 5 mL
2 tbsp sesame seeds, toasted (see Tips) 30 mL
1. In a large nonstick skillet, heat 2 tsp (10 mL) of the oil over medium heat. Sauté cashews and raisins until cashews are golden and raisins are plump, about 2 minutes. Remove with slotted spoon and set aside.
2. In the same skillet, heat remaining oil. Stir-fry potatoes to coat with oil. Spread in a single layer and cover. Cook over medium heat, without stirring, for 5 to
7 minutes. Stir and spread into single layer again. Cover and continue to cook, adjusting heat to brown potatoes without burning, for 6 to 8 minutes longer. There should be a golden crust on most potatoes when done.
3. Sprinkle with hot pepper flakes, cumin, salt and mango powder, if using. Add reserved cashews and raisins and sesame seeds. Toss well and adjust seasonings. Serve as a side dish or as finger food.
Serves 8
Suneeta Vaswani, born in Bombay, (Mumbai), came upon her culinary career almost by happenstance. When she moved to the United States, she had to adapt to being able to not only provide family meals, but being able to turn out glorious food for friends and family as is the Indian tradition. When her North American friends, who had lived in India and grown to love the food, requested to learn how to prepare the incredible Indian dishes Suneeta was making, what started out as a hobby quickly morphed into formal classes in cooking schools.
Suneeta is the owner of Suneeta's Indian Cuisine, a food company that makes and markets chutneys. She has trained chefs in restaurants, developed, tested recipes and consulted on Indian food with a number of organizations, is past president of Houston Culinary Guild, a board member of Asia Society Texas, and a member of International Association of Culinary Professionals. Suneeta has been featured in national magazines such as Bon Appétit and has written articles for Fine Cooking, and Washington Post amongst others. She is the author of Easy Indian Cooking and Complete Book of Indian Cooking.