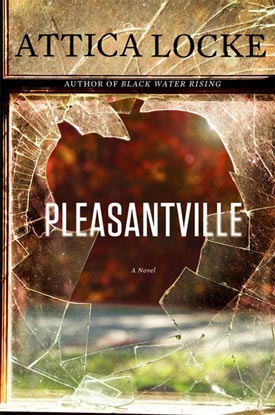 Pleasantville
A Novel


by Attica Locke
Hardcover, 432 pages
I thoroughly enjoyed this complex mystery novel. Set in a mainly black community with mostly black
characters, it was different than many other mysteries that I have read.
I loved the intricacies of small town politics vs. big-time politics, community founders vs. newcomers, big factories vs. residents, old ways and new.
Somehow, lawyer Jay Porter walks the fine lines between all, trying to defend his community while solving a series of crimes. None of which he particularly felt like taking on, now that his wife has passed on.
Intelligently written and skillfully plotted, Pleasantville kept me guessing until the very end.
From the Back Flap:
In this sophisticated thriller, lawyer Jay Porter, hero of Attica Locke's bestseller Black Water Rising, returns to fight one last case, only to become embroiled once again in a dangerous game of shadowy politics and a witness to how far those in power are willing to go to win.
Fifteen years after the events of Black Water Rising, Jay Porter is struggling to cope with catastrophic changes in his personal life and the disintegration of his environmental law practice. His victory against Cole Oil is still the crown jewel of his career, even if he hasn't yet seen a dime thanks to appeals. But time has taken its toll. Tired and restless, he's ready to quit.
When a girl goes missing on Election Night, 1996, in the neighborhood of Pleasantville—a hamlet for upwardly mobile blacks on the north side of Houston—Jay, a single father, is deeply disturbed. He's been representing Pleasantville in the wake of a chemical fire, and the case is dragging on, raising doubts about his ability.
The missing girl was a volunteer for one of the local mayoral candidates, and her disappearance complicates an already heated campaign. When the nephew of one of the candidates, a Pleasantville local, is arrested, Jay reluctantly finds himself serving as a defense attorney. With a man's life and his own reputation on the line, Jay is about to try his first murder in a case that will also put an electoral process on trial, exposing the dark side of power and those determined to keep it.

Purchase Links
About Attica Locke
Attica Locke is the author of the widely acclaimed debut novel
Black Water Rising
, which was nominated for a
Los Angeles Times
Book Prize, an Edgar Award, and an NAACP Image Award, and was shortlisted for the UK's Orange Prize. She lives in Los Angeles with her husband and daughter. Find out more about Attica at her
website
, and connect with her on
Facebook
and
Twitter
.