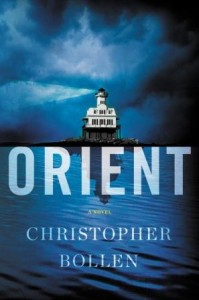 Orient
By Christopher Bollen
Hardcover, 624 pages
As I lifted this heavy tome (624 pages!) I thought to myself - this had better be good.
It wasn't. It was great! I loved the book right from first page.
The book is chilling. Complex. Intelligent. Thoroughly satisfying. The characters are well developed and the setting is real.
I knew when I was only part way through it that I was going to be sad when it ended. I was. But that did not stop me from carrying it with me everywhere and reading it every chance I got.
A great book is a secret world that you enter. This was such for me. I escaped into this book and was bereft when it was over. I immediately ordered his previous book.
Christopher Bollen has rocketed to the front runners of my favourite authors.
Read
Orient
!
From the Back Flap:
As summer draws to a close, a Small Long Island town is plagued by a series of mysterious deaths— and one young man, a loner taken in by a local, tries to piece together the crimes before his own time runs out. Orient is an isolated hamlet on the North Fork of Long Island—a quiet, historic village that swells each summer with vacationers, Manhattan escapees, and wealthy young artists from the city with designs on local real estate. On the last day of summer, a teenage drifter named Mills Chevern arrives in town. Soon after, the village is rocked by a series of unsettling events: the local caretaker is found floating lifeless in the ocean; an elderly neighbor dies under mysterious circumstances; and a monstrous animal corpse is discovered on the beach not far from a research lab often suspected of harboring biological experiments. Before long, other more horrific events plunge the community into a spiral of paranoia. As the village struggles to make sense of the wave of violence, anxious eyes settle on the mysterious Mills, a troubled orphan with no family, a hazy history, and unknown intentions. But he finds one friend in Beth, an Orient native in retreat from Manhattan, who is determined to unravel the mystery before the small town devours itself. Suffused with tension, rich with character and a haunting sense of lives suspended against an uncertain future, Orient is both a galvanic thriller and a provocative portrait of the dark side of the American dream: an idyllic community where no one is safe. It marks the emergence of a novelist of enormous talent.

Purchase Links
About Christopher Bollen
Christopher Bollen
is an editor at large for
Interview
magazine. He is the author of the novel
Lightning People
, and his work has appeared in
GQ
, the
New York Times
, the
Believer
, and
Artforum
, among other publications. He lives in New York. Find out more about Christopher at his
website
.