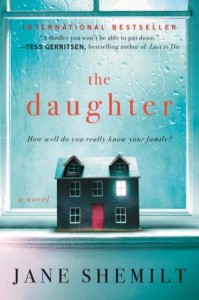 The Daughter
A Novel
by Jane Shemilt
William Morrow Paperbacks, 352 pages
How well do you really know your family?
The layers of Jenny's family secrets, intricacies, and complications are peeled away bit by bit in the days, weeks, and months after her daughter disappears.
The perfect seeming family crumbles slowly with tragedy, showing that perfection was never there to begin with. Each member of the family has much to hide.
An interesting view on family and families. One woman's breaking down and building back up in spite of everything and everyone around her. Of finding herself in the most terrifying of situations.
The book demonstrates that we can be stronger than we look. And that you never really know what is going on inside another human being.
From the Back Flap:
Jenny is a successful family doctor, the mother of three great teenagers, married to a celebrated neurosurgeon.
But when her youngest child, fifteen-year-old Naomi, doesn't come home after her school play, Jenny's seemingly ideal life begins to crumble. The authorities launch a nationwide search with no success. Naomi has vanished, and her family is broken.
As the months pass, the worst-case scenarios—kidnapping, murder—seem less plausible. The trail has gone cold. Yet, for a desperate Jenny, the search has barely begun. More than a year after her daughter's disappearance, she's still digging for answers—and what she finds disturbs her. Everyone she's trusted, everyone she thought she knew, has been keeping secrets, especially Naomi. Piecing together the traces her daughter left behind, Jenny discovers a very different Naomi from the girl she thought she'd raised.
Jenny knows she'll never be able to find Naomi unless she uncovers the whole truth about her daughter—a twisting, painful journey into the past that will lead to an almost unthinkable revelation. . . .

Purchase Links
About Jane Shemilt
While working full time as a physician, Jane Shemilt received an M.A. in creative writing. She was shortlisted for the Janklow and Nesbit award and the Lucy Cavendish Fiction Prize for
The Daughter
, her first novel. She and her husband, a professor of neurosurgery, have five children and live in Bristol, England. Follow Jane on Twitter,
@janeshemilt
.