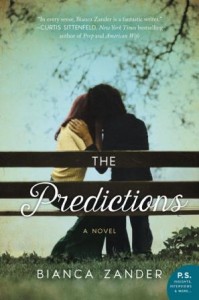 The Predictions
A Novel
by Bianca Zander
Paperback, 400 pages
The Predictions starts off in a hard working commune that doubles as a sort of human experiment in parenting. Or not parenting, as it were.
The kids are left to find out who they are on their own, and form a bit of a clan themselves.
.
When the hard-working commune has a shift in focus, the young start to scatter to find themselves away from the confines of where they were raised.
Poppy Harvest (a last name they all share) clings to the Predictions that a visitor has made for her and her life.
As she gets buffeted around the real word, her only point of reference to fall back on is the card she was given that night.
An interesting coming of age book. Certainly different context than many have experienced. I am not a stranger to communal life, but this is certainly more extreme than I remember.
More Kibbutz than hippie. Strict. No wonder the kids want out.
I can't say I really connected with the characters, but I found the trip fascinating nonetheless.
An adventurous story of growing up.
From the Back Flap:
Gaialands, a bucolic vegan commune in the New Zealand wilderness, is the only home fifteen-year-old Poppy has ever known. It's the epitome of 1970s counterculture—a place of free love, hard work, and high ideals . . . at least in theory. But Gaialands's strict principles are shaken when new arrival Shakti claims the commune's energy needs to be healed and harnesses her divination powers in a ceremony called the Predictions. Poppy is predicted to find her true love overseas, so when her boyfriend, Lukas, leaves Gaialands to fulfill his dream of starting a punk rock band in London, she follows him. In London, Poppy falls into a life that looks very like the one her prediction promised, but is it the one she truly wants?
The Predictions is a mesmerizing, magical novel of fate, love, mistakes, and finding your place in the world.

Purchase Links
~
About Bianca Zander
Bianca Zander is British-born but has lived in New Zealand for the past two decades. Her first novel,
The Girl Below
, was a finalist for the VCU Cabell First Novelist Award, and she is the recipient of the Creative New Zealand Louis Johnson New Writers' Bursary and the Grimshaw Sargeson Fellowship, recognizing her as one of New Zealand's eminent writers. She is a lecturer in creative writing at the Auckland University of Technology. Check out Bianca's
website
, and connect with her on
Facebook
and
Twitter
.