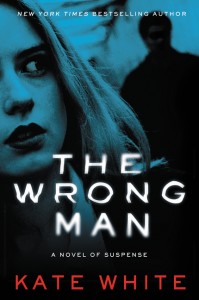 The Wrong Man
A Novel of Suspense
by Kate White
• Paperback: 336 pages
• Harper Paperbacks; First Edition edition (June 16, 2015)
A classic chiller that keeps you hooked and guessing from page to page.
I love a good mystery novel. I love it when they can grab me and keep me and fool me in an intelligent way, all while keeping me enthralled and entertained.
A good book that you feel compelled to bring everywhere you go and start reading at every opportunity. Like in the middle of a sailboat race, while the wind was resting. I might have gotten in trouble for taking my reading fixation that far, but I needed to know what was going on. That's the sign of a good book.
The only bad thing? Ending. When is the next one coming out?
Great book to take to the cottage this summer. Provided you keep a nightlight on, just in case.
From the Back Flap:
She wanted to be more daring, but one small risk is about to cost her everything­—maybe even her life. Bold and adventurous in her work as owner of one of Manhattan's boutique interior design firms, Kit Finn couldn't be tamer in her personal life. While on vacation in the Florida Keys, Kit resolves to do something risky for once. When she literally bumps into a charming stranger at her hotel, she decides to make good on her promise and act on her attraction. But back in New York, when Kit arrives at his luxury apartment ready to pick up where they left off in the Keys, she doesn't recognize the man standing on the other side of the door. Was this a cruel joke or part of something truly sinister? Kit soon realizes that she's been thrown into a treacherous plot, which is both deeper and deadlier than she could have ever imagined. Now the only way to protect herself, her business, and the people she loves is to find out the true identity of the man who has turned her life upside down. Adrenaline-charged and filled with harrowing twists at every turn, The Wrong Man will keep readers riveted until the final page.

Purchase Links
About Kate White
Kate White, the former editor in chief of
Cosmopolitan
magazine, is the
New York Times
bestselling author of the stand-alone novels
Hush
,
The Sixes
, and
Eyes on You
, as well as the Bailey Weggins mystery series. She is editor of
The Mystery Writers of America Cookbook
. She is also the author of popular career books for women, including
I Shouldn't Be Telling You This: How to Ask for the Money, Snag the Promotion, and Create the Career You Deserve
. Find out more about Kate at her
website
and connect with her on
Facebook
and
Twitter
.