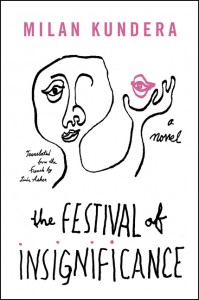 The Festival of Insignificance
by Milan Kundera

• Hardcover: 128 pages
• Publisher: Harper (June 23, 2015)
I don't even know where to start with this review. The book is short and quirky and not exactly linear. I
would say it is meant to be read slowly and just taken for what you take in. Don't expect a story, really. This is a somewhat dreamy, disconnected book of absurdity and philosophy. From navels to Stalin to angels.
Abstract at times, sad, lonely, absurd. Truths, lies, life, mediocrity and banality with occasional narrator voice jumping in to the mix.
It explores our inability to live in the same world as others. To experience in the same way. To truly understand another. That recognizing the banality of life is important, even (or especially) during major events in our lives.
"No one is here by their own wish."
"Hold on to the illusion of your own individuality."
Read it and think. The book will take you a couple of hours. The thinking may take more.
From the Back Flap:
Casting light on the most serious of problems and at the same time saying not one serious sentence; being fascinated by the reality of the contemporary world and at the same time completely avoiding realism—that's The Festival of Insignificance. Readers who know Kundera's earlier books know that the wish to incorporate an element of the "unserious" in a novel is not at all unexpected of him. In Immortality, Goethe and Hemingway stroll through several chapters together, talking and laughing. And in Slowness, Vera, the author's wife, says to her husband, "You've often told me you meant to write a book one day that would have not a single serious word in it . . . I warn you: watch out. Your enemies are lying in wait."
Now, far from watching out, Kundera is finally and fully realizing his old aesthetic dream in this novel, which we may easily view as a summation of his whole work. A strange sort of summation. Strange sort of epilogue. Strange sort of laughter, inspired by our time, which is comical because it has lost all sense of humor. What more can we say? Nothing. Just read.

Purchase Links
About the Author
The Franco-Czech novelist
Milan Kundera
was born in Brno and has lived in France, his second homeland, since 1975. He is the author of the novels
The Joke
,
Farewell Waltz
,
Life Is Elsewhere
,
The Book of Laughter and Forgetting
,
The Unbearable Lightness of Being
, and
Immortality
, and the short-story collection
Laughable Loves
—all originally written in Czech. His most recent novels
Slowness
,
Identity
, and
Ignorance
, as well as his nonfiction works
The Art of the Novel
,
Testaments Betrayed
,
The Curtain
, and
Encounter
, were originally written in French.