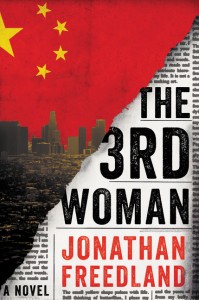 The 3rd Woman
a Novel
by Jonathan Freedman
• Hardcover: 480 pages
• Publisher: Harper
The 3rd Woman
is an intelligent thriller in a modern style.
Political nightmare meets investigative journalism meets the stubborn love of family and the need to get to the bottom of the violent crime that has taken the lead character's sister way too early.
Throw in sex and intrigue, cover-ups and confusion, and you have a dynamite thriller that will frighten you in more ways than one.
Jonathan Freedland
knows our fears and plays on them. Sometimes in an all-too-real fashion.
From the Back Flap:
The first two murders went unnoticed. The third will change everything. . . . She can't save her sister. Journalist Madison Webb is obsessed with exposing lies and corruption. But she never thought she'd be investigating her own sister's murder. She can't trust the police. Madison refuses to accept the official line that Abigail's death was an isolated crime. She uncovers evidence that suggests her sister was the third victim in a series of killings hushed up as part of a major conspiracy. She can expose the truth. In a United States that now bows before the People's Republic of China, corruption is rife—the government dictates what the "truth" is. With her life on the line, Madison must give up her quest for justice—or face the consequences. . . .

Purchase Links
About Jonathan Freedland
Jonathan Freedland is an award-winning journalist, a number one bestselling author, and a broadcaster. He is the
Guardian
's executive editor for Opinion and also writes a weekly column. He is a regular contributor to the
New York Times
and the
New York Review of Books
, and presents BBC Radio 4's contemporary history series
The Long View
. In 2014 he won the Orwell special prize for journalism. Find out more about Jonathan at his
website
, and connect with him on
Twitter
and
Facebook
.